Cricket is undergoing a seismic change, an unprecedented shift that will alter the course of the sport. T20, the phenomenal entertainment package, is tailored towards the instant entertainment culture of today. It's mere 120 balls provide a short but giddying capsule of constant euphoria and sheer thrill, ideal for the present audience. It's like eating a pizza: delicious in the moment but immediately forgotten.
T20 appears to be the saviour of our game, dragging it along into a fast and furious future. However, the future of Test cricket, the purest form of the game, is less certain: it's slow-paced nature is unappealing and bland to outsiders. Crowd numbers are dwindling outside the Big Three while boards are crumbling under the pressure of cultivating the infrastructure required to maintain the longest format. Cricket's business and administrative brains are pondering whether this is sustainable. The frank answer is that it isn't.
It is heartbreaking to witness it's Test cricket's gradual descension from the throne but many would want to know why it is so disheartening. Why should one weep for a game that lasts for 5 long-winding days only to end as a draw? Perhaps it's time that it's old fashioned style is banished from modern society. If you are thinking along such lines, look no further that India's 5th day rearguard in the 3rd test against Australia, a flawless advertisement for the countless virtues of Test cricket..
"Bowled him! Big wicket for Hazlewood and Australia!" cried the commentator with aplomb. The big Australian quick had summoned a scheming, deceiving delivery that decisively snuck past Pujara's blade and decisively cannoned into the stumps. Hazlewood screamed in delight. It was a spectacular wicket by a master-marksman of a bowler. Cheteshwar Pujara's disciplined vigil of 205 balls came to an unfortunate end.
India were 272-5 and embroiled in a crisis; if they failed save this test, the Border-Gavaskar trophy was out of reach. In came Ravichandran Ashwin, perpetually with a point to prove: despite his test wickets column being beyond the ranges of 350, there is eternal doubt over his ability in overseas. In this series, he dispelled any negative claims and, once again, showcased his class with the ball in hand. Here was a man with immense grit and adaptability, a man who could emerge victorious from adversity.
Alongside Ashwin stood a handicapped Hanuma Vihari, someone long ignored by India despite his hulking run tally in domestic cricket. Due to the influence IPL has on a player's publicity, Vihari's exploit's went largely under the limelight but he persevered onwards, showing paramount devotion to his craft. He evidently was not one to shy away from an obstacle and rather tackled it head on.
Ashwin and Vihari are the main protagonists of this riveting drama's culmination, 2 men who epitomize the inner essence of Test match cricket .
It became clear from the onset that Vihari couldn't run singles hence India's winning hopes were zero to none. The Australians smelt blood and their fearsome pack of fast bowlers delivered an onslaught of hostile bouncers that threatened the helmet and ribcage with equal measure. Their sheer speed and intimidation tests one of Test cricket's core values: courage.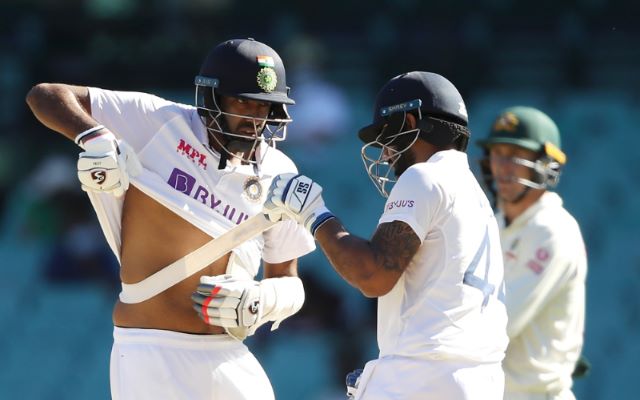 Ravichandran Ashwin stared at the ball with intent. The terrorising Pat Cummins was steaming towards and about to unleash a dark red ball, hard as a rock, at 90mph. At his head . He frantically waved his bat in an attempt to resurrect his reflexes. The crowd was fizzling with utmost anticipation. Cummins jumped. Cummins bowled. At the speed of light, the ball zoomed ferociously and thudded into Ashwin's chest. A moment of pain. And then a moment to recollect. He set up his stance and repeated the ritual again. And again. And again. And again. It was a relentless cycle of prolonged survival.
Both Vihari and Ashwin weren't flawless; they gave multiple chances to the Australians. But this imperfection is what made their tireless ordeal so special: having the inner belief to put mistakes at the back of their mind is a skill not to be underestimated.
By this point, Ashwin was covered in countless bruises due to rising, threatening deliveries by Cummins, Starc and Hazlewood. Vihari's hamstring was deteriorating by the second and the pain became numbening. They weren't in the condition to have walk in the park let alone stave off some hungry Australian quicks! Essentially, it was their unerring passion towards their country that willed them onwards. Their injury infested bodies were literally possessed by an undying passion to win. Such character is what Test cricket is all about.
The Australians grew increasingly impatient. Bouncers, slower balls, yorkers, length balls: they had tried it all and yet this pesky little partnership was blossoming and flourishing. The game was creeping away from them. In anguish, Tim Paine sampled verbal disintegration upon Vihari and Ashwin. Even this petty attempt did not disturb the Indian's tireless pursuit.
Frustration turned to worry and worry turned to utter desperation for the Australians. The situation was wholly out of hand. As the Indians continued to grind, the SCG morphed into a steaming cauldron of slow-burning atmosphere. Each ball played out was joyfully cheered by the Indian fans and triggered a collective groan from the Australians. Mitchell Starc galloped into the crease with frightening venom. Covered in sweat, he tried relentlessly for his signature reverse-swinging yorkers but to no avail. Every now and again the red, leather ball flew past the edge marginally and left Starc wondering of what might of been.
Finally, Ashwin and Vihari's blockathon looked certain to secure a draw. The Australians appeared dejected while the Indians were jubilant. A booming chant reverberated around the ground: "India, India. India, India. India, India". It was a vent of pride and satisfaction that their countrymen had pulled of such a heist, a moment of proud rejoice and elation. One last block and it was all over. The game was saved and the series was tied one all. It was a valorous voyage over an ocean gargantuan challenge . Like the other impediments that plagued their career, Ashwin's overseas criticism and Vihari's ignored excellence, they overcame the odds and achieved the impossible.
And that, my friend, is Test cricket.
Unlike the statistical T20, it's a format that transcends the raw numbers. Take this recent eminent partnership: Vihari scored a minimal 23 while Ashwin accumulated a modest 39. These scores look unassuming at first glance but are just a facade from the truth; these 2 innings are of some of India's greatest. Test cricket is littered with performances that underwhelm on paper but are incredible in person. Hence, "never judge a book by it's cover".
Test cricket is a stage that shines a light on some of the most eccentric, amazing characters. Together, these characters sculpt an epic in which the twists and turns are for more enticing and intriguing than any Netflix series. It is a stark contrast to the helter-skelter tempo of life: an indescribable emotion of swirling suspense. If T20 is a pizza, Test cricket is a hearty meal at home that reawakens the senses.
Test cricket still holds an integral part of the future to our game but perhaps with a focus on "quality" rather than "quantity". It's the living remnant of the game's most ancient traditions and despite an evolving world, it is essential to preserve that.
T20 is where the money is made but Test cricket, is where heroes are born…
My article was published in the CricTracker website.