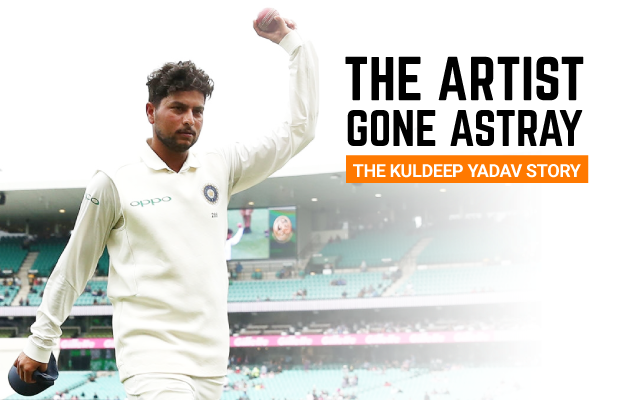 "There is a time for everyone. But now Kuldeep is our frontline number one overseas spinner," announced Ravi Shastri in February 2019.
Really? Kuldeep Yadav, a rookie with just 6 Tests of experience, to be mighty India's number one overseas spinner? Ahead of a seasoned veteran with 350+ Test wickets and India's most valuable Test cricketer in the 21st century? Logically it was a risky move but then again, logic ceased to exist when Yadav bowled.
You're watching the 4th Test of the 2019 Border Gavaskar Trophy; nothing exciting is happening. It's a change of over but it's also a change of bowler. The words Kuldeep Yadav: left-arm chinaman are emblazoned across the screen. You're instantly intrigued. You're itching to know what this exponent of the game's rarest art can do. Your eyes drift towards the bowler himself. He's meticulously spinning the ball in his hand, practising for the magic to come.
Yadav begins his run-up. He begins his stride to the crease enthusiastically, frenetically pacing his arms up and down. Even as he ran up, there was a lingering aura of mystique around what this young chinaman can do. And then Yadav jumped. His two arms elastically swirled around his body in one synchronised motion. His bowling action was classically orthodox yet wholly distinct. It was like a wizard conjuring multiple hands at once. All this and he hasn't even delivered the ball yet.
But when he did, it was perfect: the ball fizzed viciously in a way reminiscent of Shane Warne. The seam position was a thing of peerless beauty. It was generously looped high into the Sydney sky. While the ball was imparted with rapid revolutions, it was painstakingly slow in speed, teasingly floating above the batsman's eye-line. But then it dipped gloriously like it suddenly fell off a cliff. The batsman's feet, lulled by the leisurely speed, was suddenly in quicksand. He aimlessly prodded his front foot forward but it was to no use. The ball took on an extravagant, impossible turn and struck him on the pad. Yadav appealed but to no avail. But the drama had only just begun.
Kuldeep Yadav was special. When he first burst onto the international stage, it was clear the raw elements to become an absolute superstar. Big turn, bamboozling variations, chinaman variety: he was spoilt with traits of greatness. But it wasn't just the substance: it was the style. His bowling action is soothingly smooth. He relentlessly floats the ball high when bowling flat and fast is the vogue for spinners. He rips the ball as hard as he can in constant search for wickets when others get sucked into defensive ploys. Kuldeep Yadav is a nostalgic tribute to the spin artists of the 20th century. That's it, that's what Yadav is: an artist lost in time. For Yadav bowling is a paintbrush with which he can create timeless masterpieces.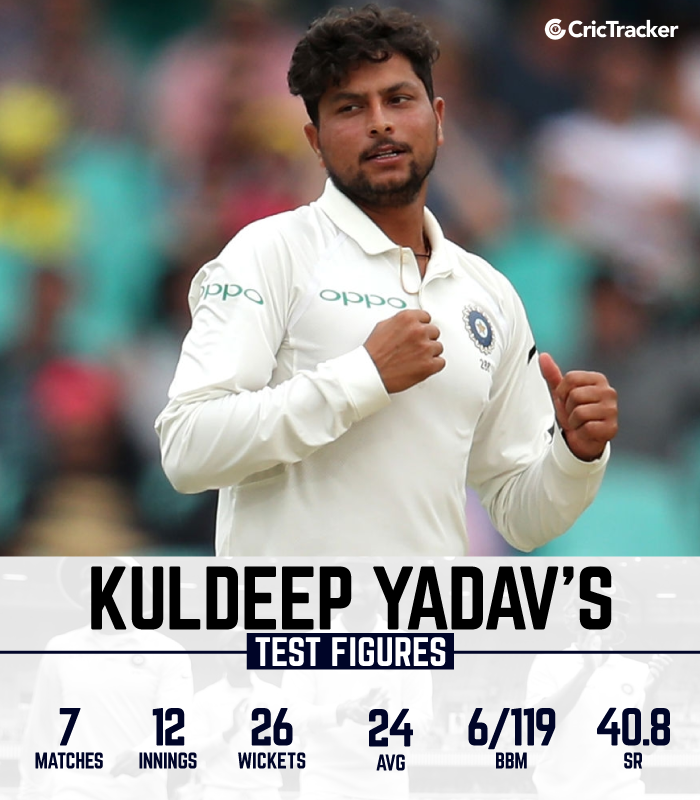 What Ravi Shastri saw in Yadav was a man who makes something out of nothing. Someone who can prove an exception to the norm. Someone who can demolish sides on his own. He saw the potential to become something quite extraordinary. But was it too early? Was he ready to be India's "frontline number one overseas spinner"? Long story short: he wasn't.
Yadav was disappointed. He had a mediocre ODI world cup: he picked up an underwhelming 6 wickets in 7 games and averaged 56.16. Batsmen toyed with his chinamans with imperious ease in a way they never had done before. The unfathomable Yadav was decoded. For the first time, he was defeated. All of a sudden, the same people who had praised him were now ridiculing him. The little voice in his head had broken free and bred insecurity with his now faltering self-belief. This experience either breaks cricketers or makes them. Kuldeep Yadav broke.
Drip by drip. Failure after failure. Kuldeep Yadav's confidence slowly drained away. First, he was dropped by KKR. A massive blow to the ego for an India player. Next, he didn't play a single Test in a series in which seemingly every Indian cricketer of note played a game. Instead, he watched longingly on the sidelines awaiting that elusive opportunity. And most recently, he played his first Test in 2 years but was reduced to the role of 3rd spinner while Ashwin and Patel ripped apart England. It was a constant pounding of failure that eventually reduced the sensational, spectacular Kuldeep Yadav of old into a figure of distant past. Only a timid, self-doubting shadow remained.
It is easy to dismiss Kuldeep Yadav as being mentally weak or lacking that extra "something" to become great but his decline is far more complex than that. The moment Ravi Shastri announced that Yadav is our "frontline number one overseas spinner" he immediately placed a burden of responsibility on his head. The expectation became gargantuan.
The margin for error became smaller. Every failure was nit-picked brutally. Kuldeep wasn't ready for all that; he had experienced the highs of international cricket, never the lows. And hence he deteriorated. It really shouldn't come as a surprise. You may say that it is part of a cricketer's job to handle responsibility but it is also the management's job to choose who was ripe for the task. India's management failed.
To make matters worse, they kept insisting that Yadav was integral to their plans despite never picking him. They even ignored him against Australia in which seemingly everyone got injured. Sure, the decision to overlook Yadav turned out to be justified but if he wasn't good enough, be transparent with him. Tell Yadav why he isn't in the side and what he needs to do to get back in. By supplying Yadav with unkept promises, India truly eradicated whatever little confidence he had left. India's management failed with Kuldeep Yadav. Again.
"When you have it (confidence) you feel like you're never going to lose it, when you haven't got it, you feel like you're never going to get it." Matthew Hayden. These insightful words sum Kuldeep Yadav's career to date perfectly: it seemed as if his initial purple patch would never end but as soon as he lost his confidence, failure became so predictably inevitable. It is tragic to see such a bright star fade out so abruptly.
But there is still time. Yadav is merely 26 years of age; many spinners only meet their peak in their thirties. It is time for him to turn over a new leaf and start again. The artist rose, the artist fell, but can he rise back up again.
My article was published on CricTracker